Gerry is responsible for the ongoing leadership, strategy, development and success of the UK business. With over 36 years' experience in financial services, the past 20 being at executive and board level, Gerry has particular expertise in operations, leadership and structured finance.

Prior to joining Pepper Advantage in 2011, Gerry worked in a variety of investment and retail banking companies, including Barclays Wealth and Lehman Brothers.
He's known in the industry for being adept at building strong client relationships and getting the best out of teams with a calm and approachable nature.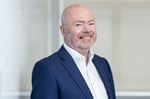 "We manage about £19 billion worth of assets across multiple classes, including residential, commercial and SME. And we provide tailored solutions to our clients in terms of the established portfolio trading space, but also new loan originators as well. Pepper Advantage works with all stakeholders to find solutions, no matter how complex."