Asokan is a financial services professional, with 35 years' experience in treasury, corporate and investment banking, retail and SME lending, and asset reconstruction business.

He has an established track record of starting new businesses and of turning around distressed loans, and has been involved in the mergers and integrations of several banks.

Asokan started at Pepper India, part of the Pepper Advantage group, in 2019, and has particular expertise in investment banking, corporate and SME lending and risk management, including non-performing loans. He is a Certified Associate of the Indian Institute of Bankers.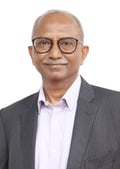 "Our sector is changing rapidly, and Pepper Advantage is leading the charge. Today, it's all about knowledge-based resolution and tech-led strategies."