As well as providing essential oversight, Anna plays a vital role, in tandem with other Pepper Advantage executives, in implementing the global strategic plan.

Before joining Pepper Advantage, Anna worked as CFO for global financial companies including finance messaging service SWIFT and American Express Global Business Travel. Her roles have focused on profitability improvement, digital and business transformation, and driving companies' growth and performance. She is also adept at managing high-performance teams.

Anna has an LLM in Finance from Goethe University and a BA in International Management from Otto-von-Guericke University in Germany. She also holds three professional financial qualifications: ACCA, CFE and CIA.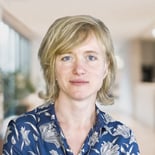 "I'm looking forward to supporting Pepper Advantage in increasing its value and in its endeavour to becoming the leading global credit management company. I was especially interested in joining the Pepper Advantage team because of its commitment to developing second-to-none, future-proof technology, and its ambition to create the world's leading data-rich Intelligence Platform. Real-time, simple, easy to operate, and CX friendly."