Weerapat is responsible for overseeing Pepper Advantage's servicing business throughout Thailand, bringing local expertise and global insights together.
Weerapat joined Pepper Advantage in November 2021 with more than 15 years' experience in asset management, real estate business planning and strategy. Prior to that, he was part of the financial management team for one of Thailand's largest real estate developers.
Of particular interest to Weerapat and his team in Thailand is making full use of Pepper Advantage's second-to-none tech capabilities to help people with unmet credit needs lead fulfilling, well-managed financial lives, while maximising returns for clients.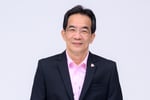 "With its unique IT solutions and technology platform, we're transforming the non-performing loan market in Thailand. Our ambition is to service underserved demographics and improve recoverability and profits."