Anuj has more than 25 years' experience in distressed debt investments and resolutions, corporate development roles and private equity investments. He joined the Pepper Advantage team in July 2021, and a key focus is acquiring non-performing loans.
Part of the Pepper Advantage family, Pepper India Advisors is an investment management and advisory business that helps onshore and offshore investors make profitable investments and realise value from them.

Prior to Pepper Advantage, Anuj worked with Deutsche Bank, Merrill Lynch, Sabre Capital, Axis Private Equity and Kotak Bank. He is an MBA from the Indian Institute of Management, Bangalore, and a qualified chartered accountant.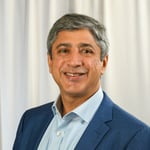 "Pepper Advantage is changing the face of the business by establishing a unique, data-led platform that can attract capital to acquire and resolve problem loans, delivering superior and consistent returns to investors."